Software Testing Services
High-standard Qualified Test Engineer
Quality of human resource is a key factor that directly impacts to testing activities. Therefore, TSDV firstly emphasizes on continual skilling up our test engineers both at software testing techniques and domain knowledge in Toshiba business domains. We target all test engineers are qualified by International Software Testing certifications like ISTQB. We aim to build each member as universal engineer who can involve in full-stack software testing process, from software specification analysis, test design, implementation to test result analysis. In this viewpoint, we see no difference between a software engineer and test engineer.
High-maturity Testing Process
At TSDV, we control each phase of testing under systematic process, complying CMMI Standard. Senior members of related product domain review output in each step. Progress and schedule of testing is monitored frequently with automated tools & systems.
Insight Knowledge of Toshiba Product Domains
Toshiba product domain knowledge is one of our core assets that makes us unique with any other software testing centers. By involving in various business domains in Toshiba such as automotive, infrastructure, memory & storage, air conditioner, etc, TSDV test engineers can adapt quickly with testing jobs in variety of complicated industrial systems and product domains.
Advanced Testing Technology
Beside human resource, technology is key factor for effective testing services. TSDV continuously update and build up own TSDV technologies of testing in collaboration with University in Vietnam as well as divisions in Toshiba Group.
Service menu
Test Center provides from partial to full cycle of software testing include make test plan, develop test case, construct test environment, test execution, test analysis and test process improvement.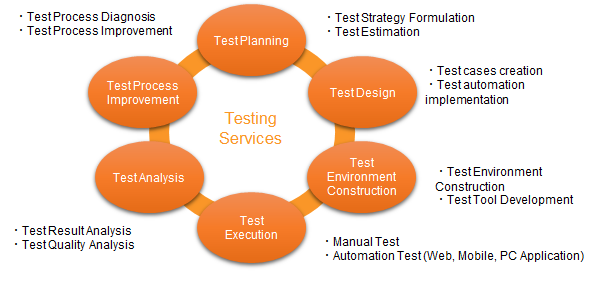 Test Planning
By analyzing system requirement and specification, test planning phase determine best testing strategy and solutions for projects in constraint of best test coverage, cost and schedule.
Test Design
By applying advanced testing methodology and experience of working in complex system of Toshiba Group, we optimize number of test cases with highest coverage.
Test Environment Construction
Deploy software system at TSDV for testing. With complex system difficult to set up offshore, we provide service of virtualization to build up simulator, emulator for testing.
Test Execution
By professional test engineers, tests are executed with high accuracy and productivity. We consider test automation for applicable software products to reduce cost and time of test execution.
Test Analysis
Professional test analyst analyzes test result by systematic methods; provide accurate information for product quality as well as recommendation for quality improvement.
Test Process Improvements
During test execution and evaluation for each software system, continuously propose plan for improvement existing test process. It helps to do the test with highest effectiveness and lowest cost of operation.
Key Technologies
Test Automation
In TSDV, we build up comprehensive solution of Test Automation Frameworks for Web Application and Desktop Application. It helps to reduce cost, accelerate speed of test execution and shorten time to market of products.
Our ambition in TSDV test automation frameworks is: all testing activities can be done with only one-click
Automatically generate test scenario

Automatically generate test script

Automatically build and run test

Automatically collect test result & analysis
Test Environment Virtualization
Virtualization technology helps to improve efficiency and effectiveness of testing for complex system requires real hardware equipment & devices. By mastering technologies in test environment virtualization, TSDV aims to reduce cost for test environment installation in early stage of production, optimize asset usage while still able to confirm quality of software system at early stage.